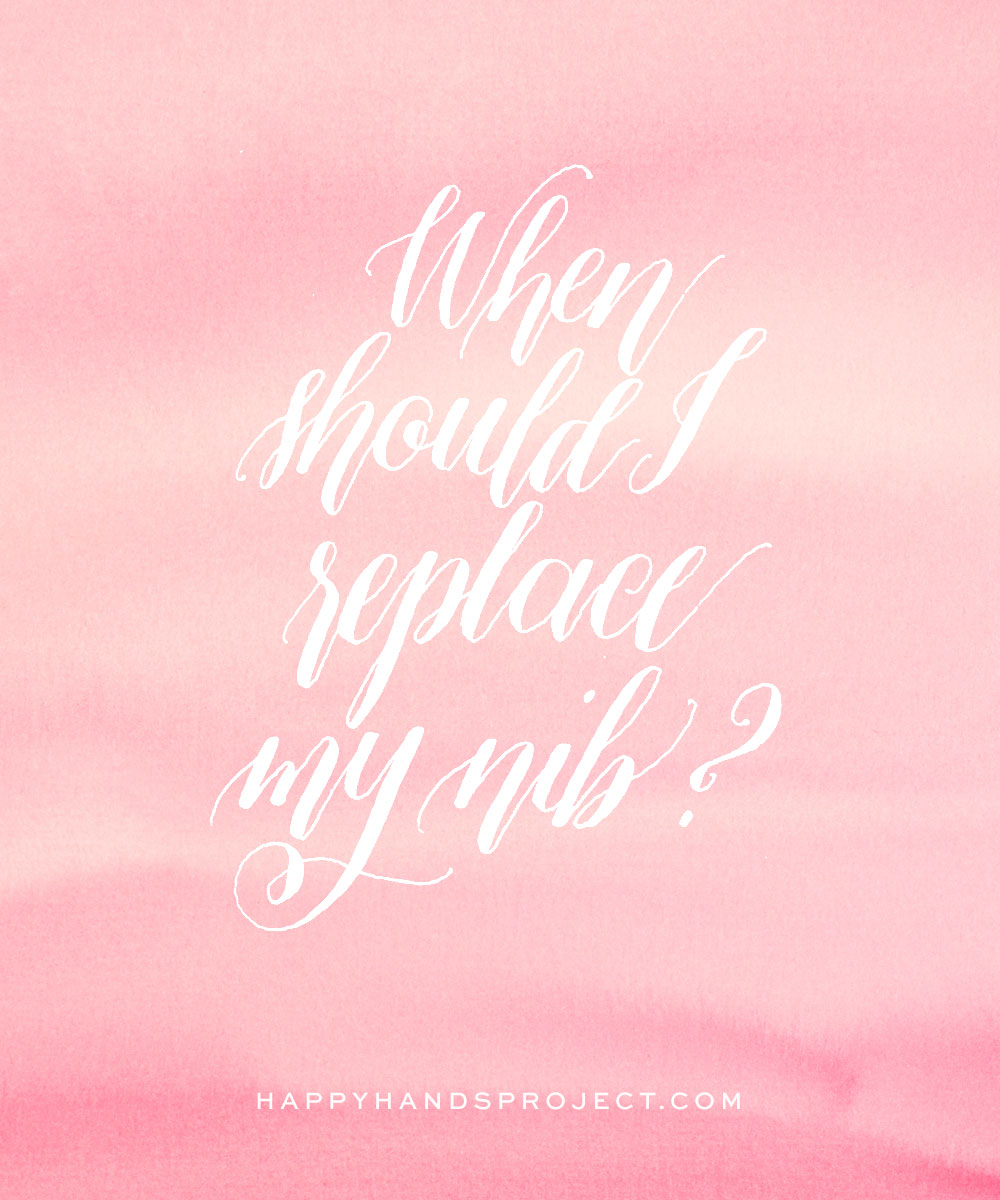 I've encountered this question a lot of times, and for beginners, it can be quite tricky. Some have asked me how long a pointed flex nib typically lasts. However, this question can't be answered precisely — it would depend on how often a nib is used, or how much writing one has done with it.
There are some nibs in my stash that I only use from time to time, so therefore they have a longer life span. I have favourite ones, and I replace them more often. The key indication of a nib that needs to be chucked is when it starts 'misbehaving' (yup, sometimes I treat them like they're my kids). Here I broke it down to 5 signs:
1. The nib is snagging the paper
This works specially when you're used to how a certain nib behaves. Most often than not, I use a Nikko G, and I know that it glides onto my paper and doesn't give me a hard time. When all of a sudden the tip starts scratching the surface of the paper during upstrokes, I know it needs to be replaced.
2. The upstrokes start skipping
Oh, that occasional ink splatter still catches me by surprise. Sometimes, I might be using a different kind of paper. But a splatter of ink on an upstroke? On my Rhodia?? That is totally unheard of. I would probably write a few more lines and see if the ink continues to skip and/or splatter. If it continues, the best thing to do is start again using a freshly prepared nib. Trust me, it works.
3. The ink flow is somehow different
If the ink just stays on the reservoir (that tiny hole in your nib that holds the nik) and wouldn't flow, it can mean a few things. The ink may be too thick (or old, even), your nib needs washing, or it needs to be thrown into the bin. Combine this indication with any of the 2 above, and it means a new nib is the way to go.
4. The pointed tip is deformed
I had a Brause EF66 once, and it used to be my favourite nib. I used it all the time. Sadly, it was the last piece I had and obviously, I was holding on to it for as long is humanly possible. It did all those things above but I turned a blind eye. When I couldn't take it anymore and my writing was a mess anyway, I took a closer look at the tip and realized that the tines were misaligned. The tines are the two parts of the nib that separates on the downstroke. Sometimes, it can still be repaired. I'd say retire the nib and use a new one.
5. The nib has rusted
Well, I have to say I've used some nibs that have slightly rusted and they still worked well. Given Singapore's humidity, nibs always have this risk of rusting. I'd recommend placing packs of silica gel in your nib boxes. Slight rusting on the nib that is far from the tip is fine, but if the tips are corroding, it needs to be retired.
There you go! I hope these tips have given insight to this issue of nib replacement. If you have any other tips just let me know in the comments and I'll update this post to add it!