Do you have a modern calligraphy book wish list like me? Even if you have gone to in-person classes or have taught yourself modern calligraphy, it's always good to have a few good books to refer to whenever you need help. Do take note though, that these books are all about pointed pen modern calligraphy and NOT brush lettering. I'll have a roundup on that soon!
Here are some common things that you need a modern calligraphy book for, from my experience:
GETTING STARTED IN MODERN CALLIGRAPHY
Have you forgotten how to prepare your tools? Do you need help on how to write your strokes? A book for beginners will more often than not have an overview of how to get started.
FINDING ALTERNATIVE WAYS OF WRITING A LETTER
This is one of the reasons why you need a book—for the exemplars! Some books have multiple alphabet guides that you can replicate when you're stuck in a rut.
GETTING INSPIRATION FOR CALLIGRAPHY PROJECTS
I adore calligraphy books that have beautiful pictures and instructional how-to's. Aside from teaching a beginner how to write in modern calligraphy, a good book also gives inspiration on how to use the newly-learned craft!
Here's a list of books on modern calligraphy that helped me get started, peppered with some that are high on my wish list. You might see that there are a couple of books by Molly Suber Thorpe, because I just absolutely love how she shares calligraphy in her book. This list is not sponsored and is purely my honest opinion. Enjoy!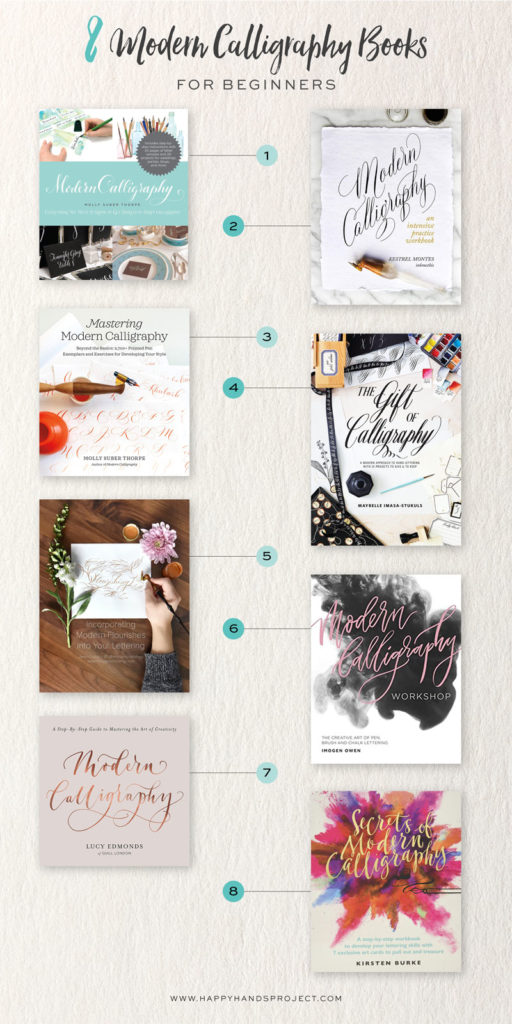 1:: Modern Calligraphy by Molly Suber Thorpe | 2:: Modern Calligraphy: An Intensive Practice Workbook by Kestrel Montes | 3:: Mastering Modern Calligraphy: Beyond the Basics by Molly Suber Thorpe | 4:: The Gift of Calligraphy: A Modern Approach to Hand Lettering with 25 Projects to Give and to Keep by Maybelle Imasa-Stukuls | 5:: Flourishing: Incorporating Modern Flourishes into Your Lettering by Jarrin Cheng | 6:: Modern Calligraphy Workshop by Imogen Owen | 7:: Modern Calligraphy: A Step-by-Step Guide to Mastering the Art of Creativity by Lucy Edmonds | 8:: Secrets of Modern Calligraphy by Kirsten Burke
Looking for lettering books instead? Here's a roundup of lettering books from the Happy Hands Project.