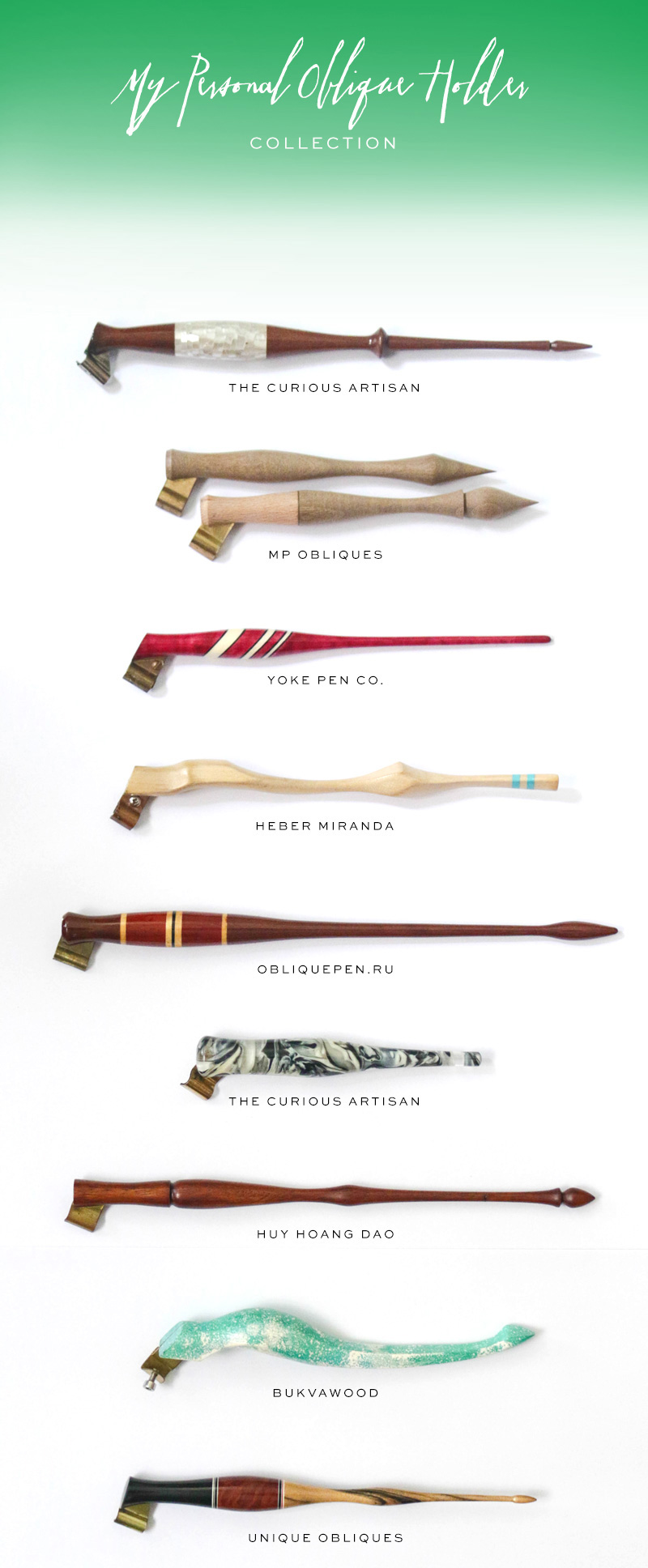 When I started with calligraphy, I was writing with a straight wooden holder. I became familiar with the oblique when I learned Copperplate with Eleanor Winters, and I never used a straight one since then. Because Copperplate needs to strictly follow the 55-degree angle, the oblique pen holder has helped me maintain a consistent angle.
After using a Speedball for some time, I felt that I was ready to have a custom pen made. It was kind of like a coming-of-age moment (in calligraphy years). I had an ergonomic one made by Heber Miranda and it's still by far one of my favourites because it's lightweight and has a Bullock-style flange that's perfect for someone who uses various kinds of nibs.
I received one comment on Instagram asking me why I have quite a number of holders when they all work the same way. Well… it's kind of like shoes. You may have several strappy high heels, but they come in different colours and each pair fits your feet differently. They're all strappy high heels but one pair is used for a particular dress style, and some of them won't look nice with jeans. I could go on and on but well, you get the picture. So I guess it's the same with my holders! I have ones with Bullock-style flanges, and I have a couple of ergonomic ones, so depending on the nib — and my mood — I would reach for one that would be best suited for the job. Oh, and I have a leather pen roll that fits 18 or so pens so I want to fill it to the brim.
If you're curious, here are the oblique holders from my collection so far:
1 :: The Curious Artisan, Philippines (I wrote a review here)
2 :: MP Obliques, Turkey
3 :: Yoke Pen Co, USA
4 :: Heber Miranda, USA
5 :: ObliquePen.ru, Russia
6 :: The Curious Artisan, Philippines
7 :: Huy Hoang Dao, Vietnam
8 :: Bukvawood, Russia
9 :: Unique Obliques, USA
I have one more pen that I have yet to reveal, and it deserves its very own blog post because it's extremely special. I'll update you all next month, but in the meantime, I hope you liked reading about my modest collection. If you have a pen maker in mind, let me know in the comments so I and the lovely readers can check their work out!