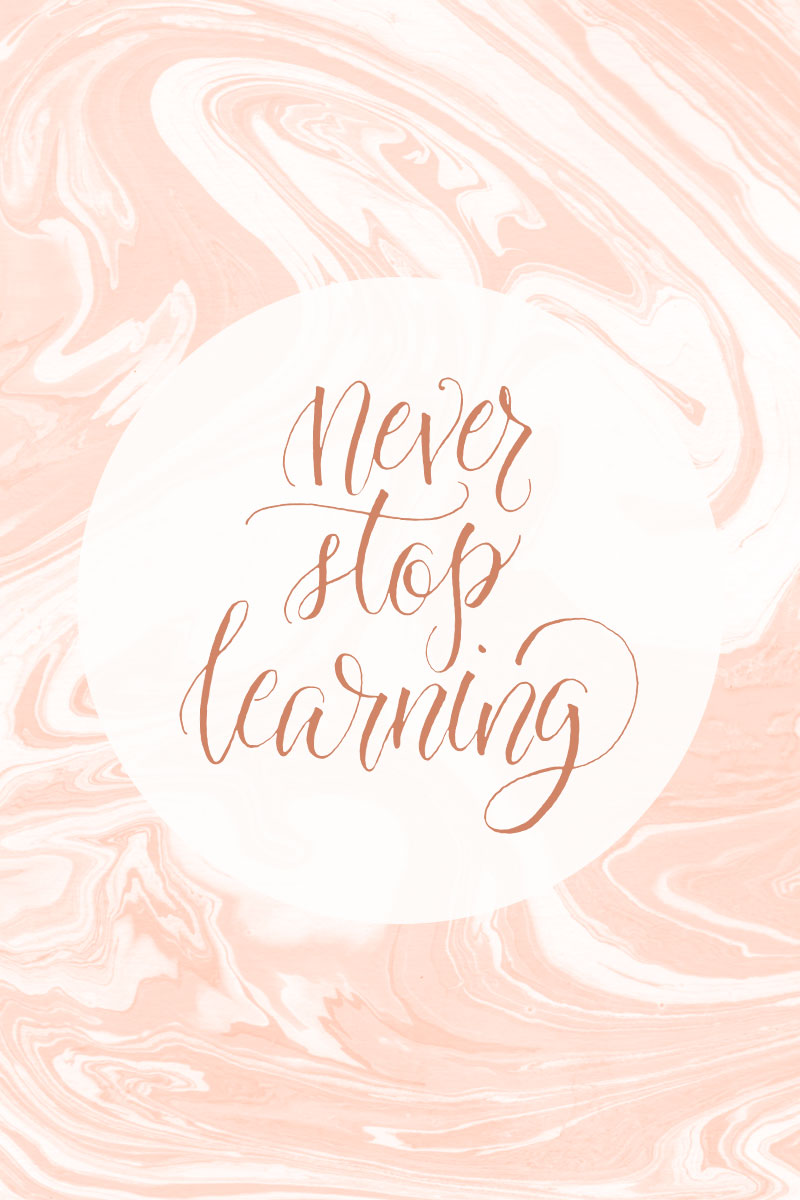 I have attended a few creative workshops in the past 5 years, and they have been nothing but amazing. I tend to be picky and only attend classes that are of my interest, so that means it's mostly calligraphy, and these classes have taught me so much more than what I can teach myself in a  year.
I have taught myself creative or modern pointed pen calligraphy, but what really got me going was after I attended Maybelle Imasa's class here in Singapore. I'm all for self-study, but nothing beats an in-person workshop, based on my experience. Here, I have put together 6 reasons why going to an in-person workshop is good for you.
1 :: It speeds up the learning process
It took me 2 years to teach myself pointed pen calligraphy. If only there were workshops here in Singapore back in 2012, it would have taken me just a few months! I had Eleanor Winters' Mastering Copperplate Calligraphy book for ages, and I could just follow the instructions if I allowed myself to learn from the book. But when she came here in 2014 and taught our class how to write the strokes, I had so much insight that I could not wait to get home to practice.
Same thing with Spencerian. This is a hand that I've been wanting to learn for years. I bought the Spencerian Workbooks by Platt Rogers Spencer. I've had it for a year and have only begun on the first workbook (it had 5). I could not even master the entrance strokes.
Last month, I attended a 2-day beginning Spencerian class with calligrapher Michael Ward. After the class plus weeks of practice, I can already write monoline Spencerian in lower case (while using his exemplar as a guide). It would have taken me years if I depended on my time management skills and the workbooks.
2 :: Someone points your mistakes (and commends you when you're right!)
Eleanor slightly adjusted the nib on my plastic oblique holder during class. It has been angled wrong all along! During the classes I teach, we were able to address minor issues right away—scratchy nibs, ink blobs and usually the most challenging—connecting letters to form words.
You will be inspired and encouraged when your teacher tells you you're doing something right, and it's something you won't forget that easily. The most effective teachers I've met were those who point out mistakes but were never patronizing nor condescending. I wouldn't say everyone's a snowflake, but it sure feels good when students receive a little encouragement.
3 :: You learn tips and tricks that you wouldn't learn elsewhere
When the teacher is right there in front of you, you can just ask a question and receive instant feedback. It's hard to judge your work when you're alone. I remember a question I posed to Mike Ward during class. I showed him my uppercase B's and asked, "these look right to me, but something's off. Can you tell what it is?", and he took my sheet and marked the first loop. It had to be a tad rounder.
Calligrapher Paul Antonio taught us the importance of good posture and a breathing technique to make writing easier. And I have applied it to the way I write.
4 :: You will find the value of practice
These teachers give lessons because they are experts in their own field. You will realise the hard work they've been through to get better in their craft. Nobody becomes an expert overnight, and after learning from these experts, I have found the value of practicing in order to refine my writing.
You can spend so much money going to different classes but without practice, you will never get better at it. It pays to flex those (hand and arm) muscles and put on paper what you've learned so that the workshop fees you've paid for truly is money well-spent.
5 :: Your passion will be ignited
Being around people in a creative environment is enough to super-charge your passion. Writing calligraphy, lettering, or even painting, can be a solitary activity. But spending hours or days with people who share the same passion as you will trigger a certain passion inside you. It is up to you to do something about it!
I love hearing the teacher's creative journey—how they started and how long it took them to be where they currently are. Unsurprisingly, it wasn't all roses and sunshine, but hearing how they got better at their craft was enough to inspire everyone in the room to keep going.
Have you ever gone to a painting class and could not wait to get home and get your painting tools out? If you have, that's exactly what I was talking about.
6 :: You make new friends
During those breaks during class, you'll end up chatting with those around you. You'll exchange Instagram handles, or plan the next art jam, or ask each other which class you're going to next. Either way, you'll get to know those like-minded individuals and you might just hit it off with one (or even two) of them!
So there you have it. I hope this year you'll decide to go to a class and learn something new. The next blog post will all be about online workshops—and why they're good for you, too—specially when in-person classes are out of the question. Let's all keep on learning!
SaveSaveSaveSave