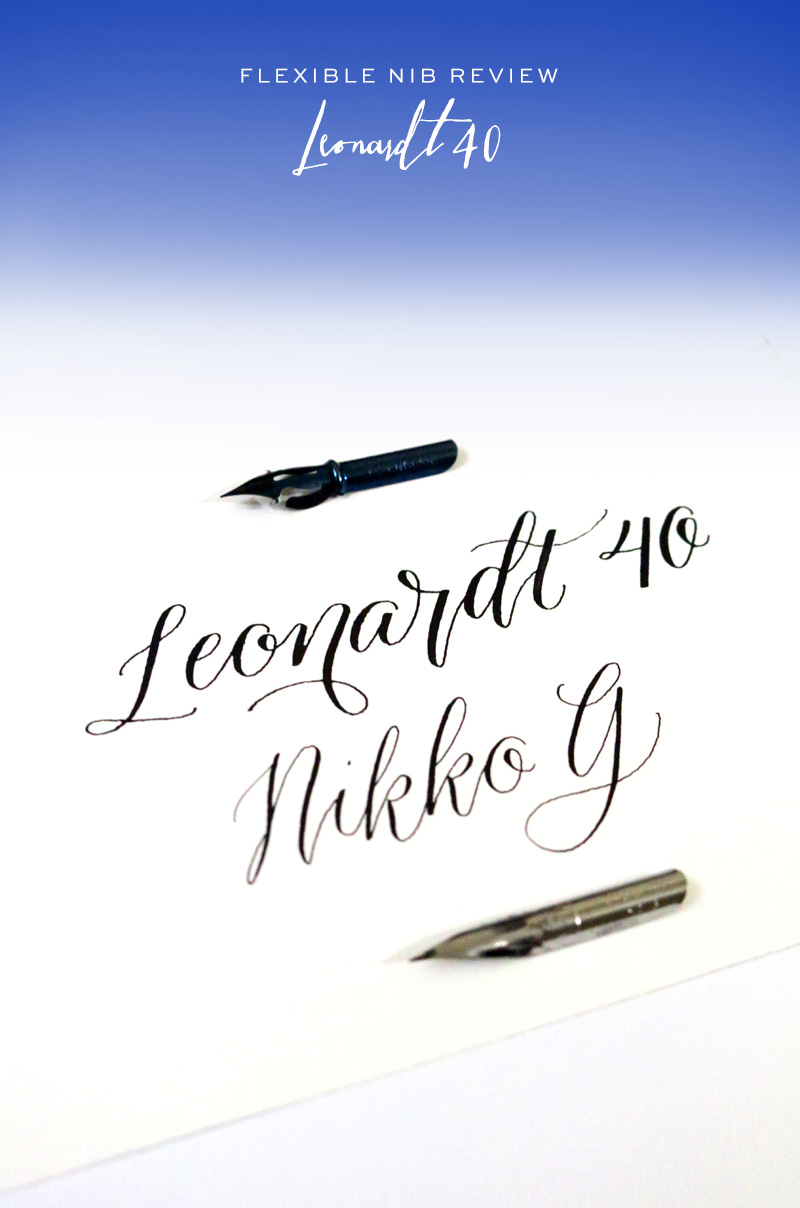 It's been a while since I've posted a nib review here on the Happy Hands blog. During the recent Modern Calligraphy workshop, I got asked several times how different the Leonardt 40 nib was from Nikko G. These 2 nibs are usually the ones included in my workshop kits. However, I always advise to use this blue nib only when they're already used to the G nib. So how different are these 2 nibs, really?
MORE FLEXIBLE THAN THE NIKKO G NIB
The Leonardt 40 is also called Hiro 40, or Blue Pumpkin. Similar to the Brause Steno Blue Pumpkin in appearance, this is a large nib with an equally large ink reservoir. It's very flexible, so the pressure needed to get a thick swell in a Nikko G is not necessary with the Leonardt 40. Because it's softer, just a bit of pressure makes the tines open up—allowing the ink to flow and form thick swells.
The Nikko G is stiff and somewhat tough, but the Leonardt is soft and more flexible.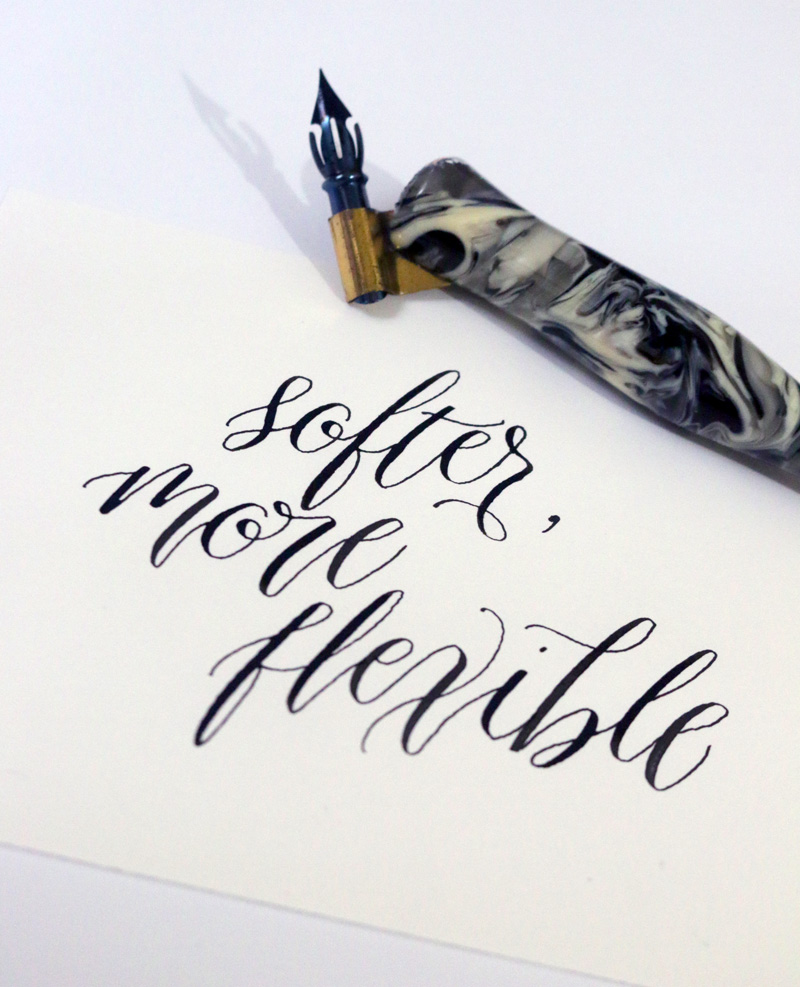 Because it's more flexible, putting a lot of pressure results in a very thick downstroke. This thickness cannot be achieved using a Nikko G nib. The only downside is that the upstrokes are not very thin, which is essential to Copperplate calligraphy.
THE BLUE PUMPKIN GIVES THICKER SWELLS
For those who love to write modern calligraphy and aim for super thick swells, then this is the nib for you.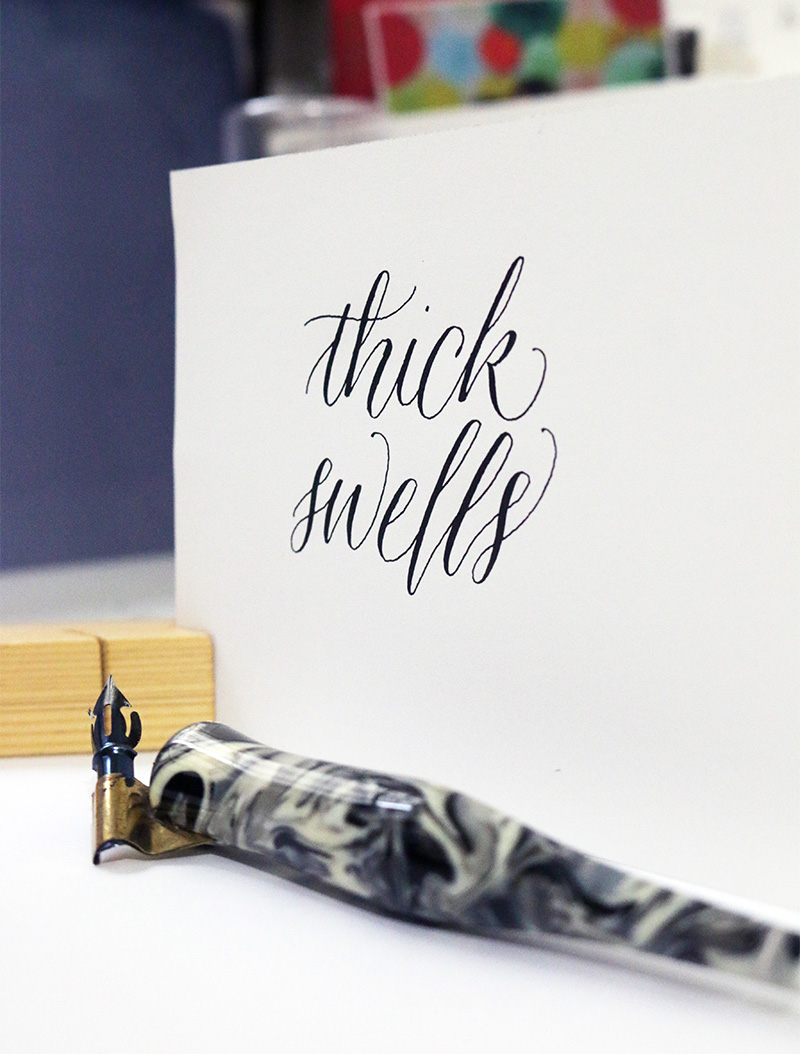 For beginners, it's always best to start with the stiff Nikko G nib (or Tachikawa G, which comes from the same manufacturer). Once you've mastered the concept of the pointed pen (pressure on the downstrokes, release on the upstrokes), then you can proceed with using the Leonardt 40.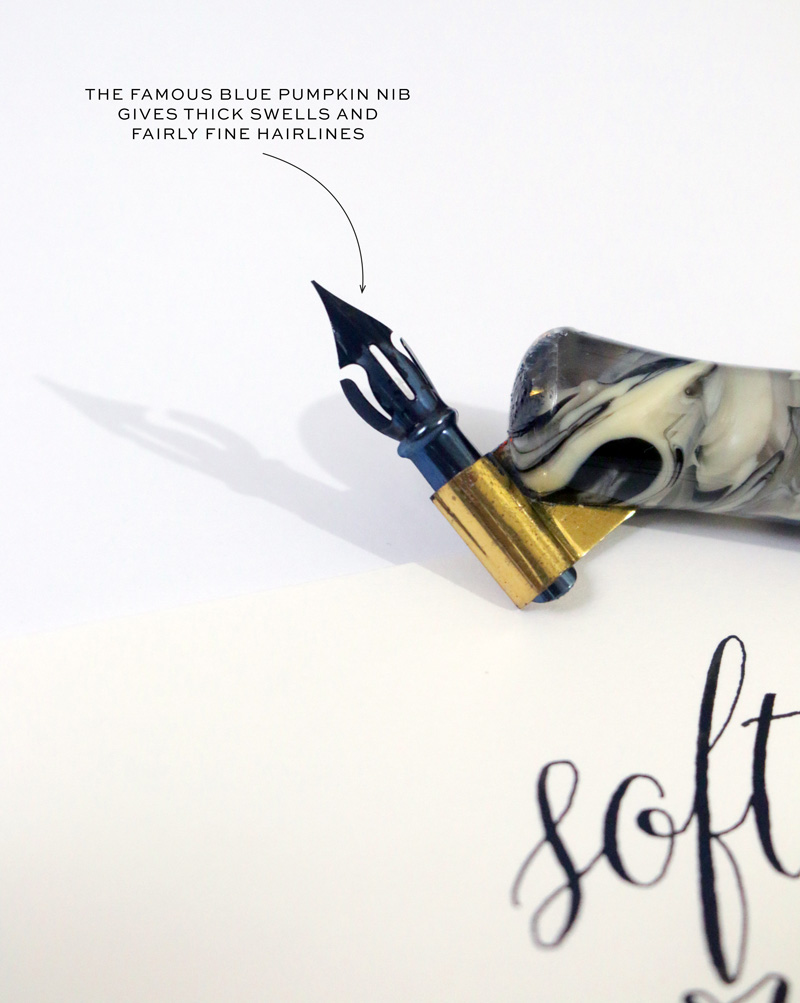 I've also noticed that my ink lasts longer with the Nikko G. I get to write more letters with one dip of ink with the Nikko than the Leonardt. Again, this is due to the flexibility of the latter. Because it produces thick swells, the Leonardt 40 needs more ink. So I dip this nib more often in ink when I'm writing.
I'd say this nib is worth a try if you haven't done so yet. Nibs behave very differently with every calligrapher, so a nib that works well for one may not do wonders for another. But the paper and ink used also play a part, so make sure all your tools work well together. All in all, this nib is still one of my favourites. Check out my other favourite nibs in this roundup.
So have you tried using the Leonardt Blue Pumpkin? Yay or nay?
SaveSaveSaveSave
SaveSaveSaveSaveSaveSave
SaveSave
SaveSave