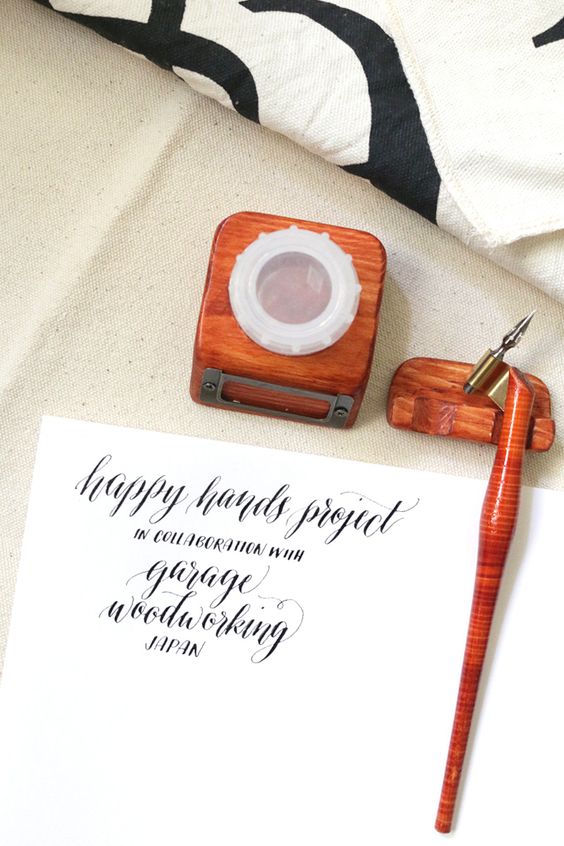 I finally have the date for the next intermediate calligraphy class, and it's the most special one I'll have in my almost 3 years of teaching. When I started with modern calligraphy, I've been using a straight holder. After getting Copperplate lessons from Eleanor Winters, I became more comfortable with an oblique pen and now I use an oblique 99% of the time.
Now what makes the upcoming workshop so special, you might ask?
Well… (drum roll please), introducing — the custom wooden calligraphy set specially customized for the Happy Hour Workshops! It's a collaboration between yours truly and wood worker Keiichi Sato of @garagewoodworkingjp in Japan. I've worked closely with Mr Sato with regards to the grip, flange, size and finishing for this beautiful set, and I'm blown away with how amazing everything turned out. I have been using the oblique holder for a couple of months now, and it's been my go-to pen ever since.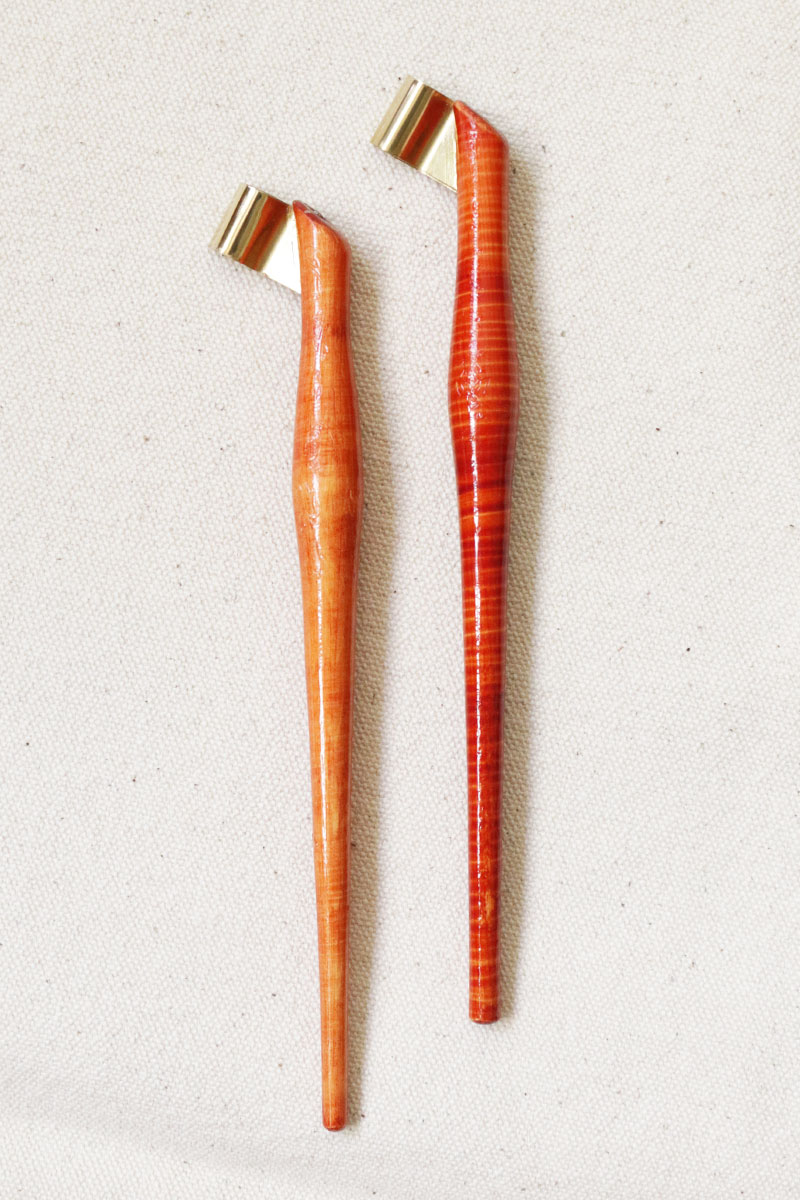 Participants to the workshop will each receive a wooden oblique made of Hinoki, or Japanese Cypress with a flange to fit most nibs. It's handy and lightweight, which is one of the first things I look for in a holder. The set also includes a matching base for ink jars and a pen rest made of Douglas Fir. The wooden base for inks is specially designed to stabilize those jars — I've been known to spill inks all over my desk (which also happens to be white) so this made my life easier.
Mr Sato opts for natural, old-fashioned finishes like shellac and beeswax. A traditional woodworker, he uses hand tools made in the late 18th century. When asked about his choice of wood, he explained that he likes using Japanese Cypress for the holders because it is a softwood that's lightweight and gives a good feel. "Weight is very important to make hours of writing comfortable", he noted. "Japanese Cypress is also waterproof. As a matter of fact, many high end Japanese ryokans use Japanese Cypress to make bathtubs because of its nice smell and water repellency".
Making calligraphy holders is also different from other wooden pieces because according to Mr Sato, holders are not art pieces but practical tools. Some calligraphers like his daughter for instance, don't like staining their pens with ink (quite contrary to me, because I stain mine all the time). Liquid can be trapped in the slots for flanges which may result in problems only a woodworker may understand. "It's a huge challenge for me, and I am learning new things everyday", he mused, and I can only nod in response.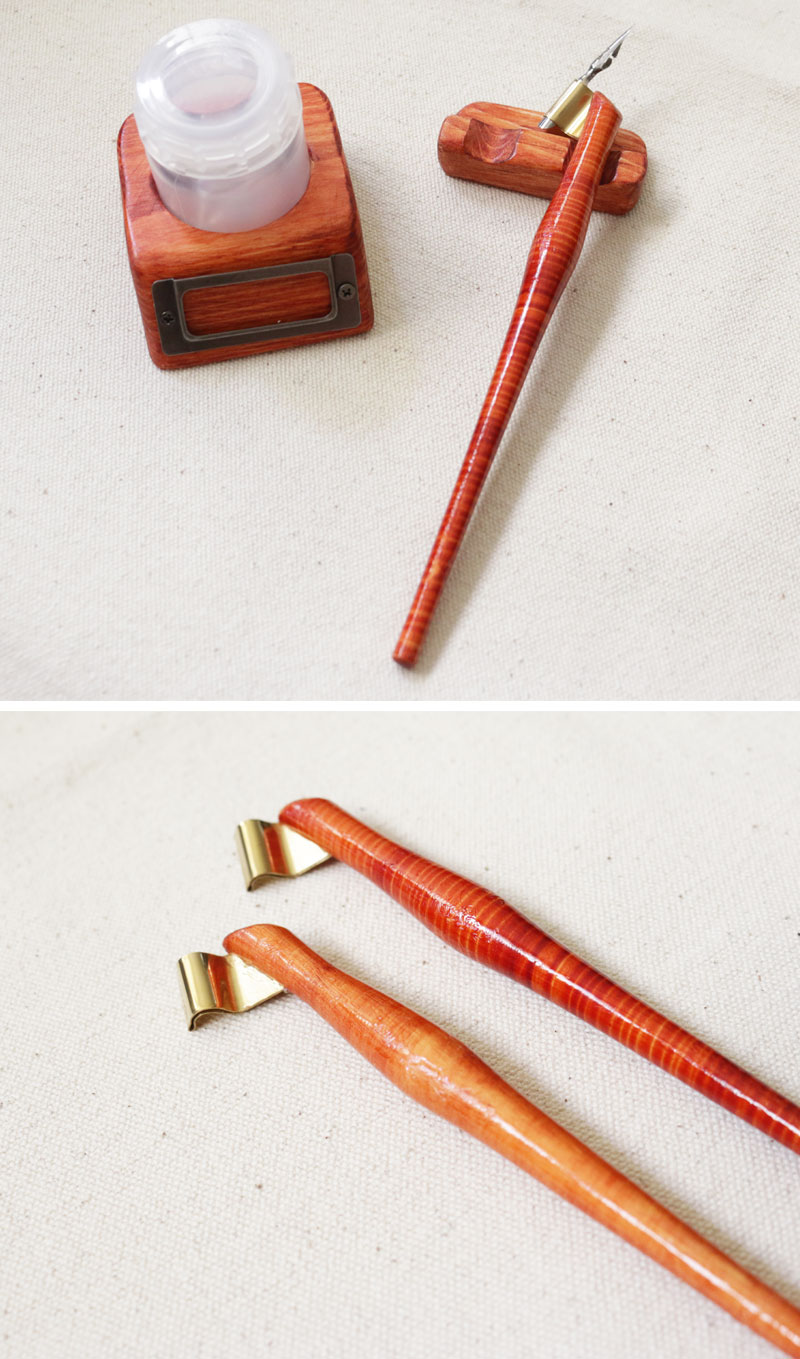 "I used to travel 100,00 miles a year when I was a sports photographer in the US", he told me. "Now I stay in my garage with a Siberian Husky." When asked how he got started making wooden pieces for calligraphy, he said, "I love woodworking because I love to use my hands. My daughter is a wonderful calligrapher, and I started making calligraphy supplies with wood to support her."
When it comes to aesthetic, Mr Sato is a mad snake when it comes to details (my words, not his). "I don't mind spending hours perfecting details while keeping the design as simple as possible", he replied. He values good relationships with calligraphers, many of them asking for custom pieces like boxes, pen trays, coffee scoops and chopping boards, to name a few.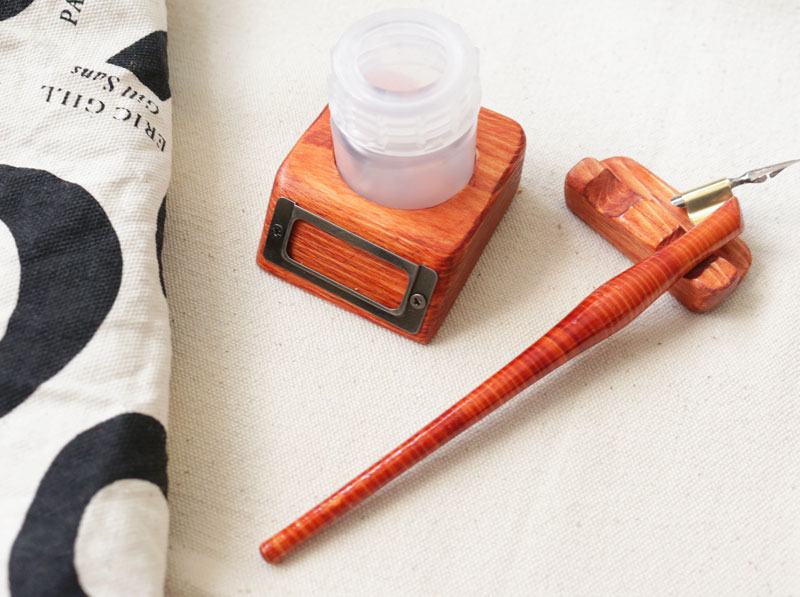 "If I were living in Singapore, I'd love to make my shop open to calligraphers to stop by. Fix their holders, change their grips, or anything I can do to help them", he offered. I'm sure I won't be the only one hanging out in his shop everyday if that happens!
Now that I've shown you all this beautiful set, I'd love to have you at my Intermediate Workshop! Interested in advancing your skills in modern calligraphy, and the same time snagging your own custom oblique set? More details can be found here. Hope you're as excited as I am!